SmartScope Duo 4K looks like a SmartView Duo but adds independent waveform monitoring so you can select between waveform, vectorscope, RGB parade, YUV parade, histogram and audio phase level displays. Each monitor is independent so can display any combination of scope or picture view!
Connections
SDI Video Input
Automatically switches between SD, HD and 6G-SDI. Reclocked loop through output.
SDI Video Output
1 x 10 bit loop through SD, HD and
6G-SDI switchable.
SDI Audio Input
16 channels embedded in SD, HD and UHD.
SDI Audio Output
16 channels embedded in SD, HD and UHD.
Multi Rate Support
Standard definition SDI, high definition SDI and 6G-SDI.
Tally
9-pin D connector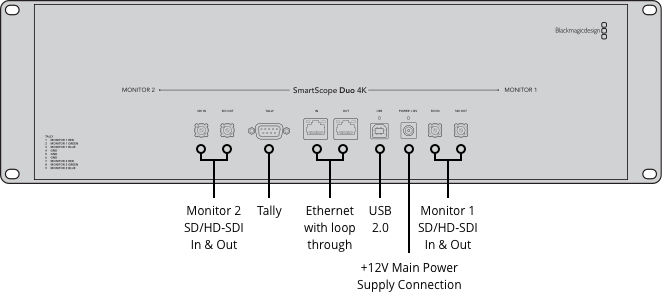 Standards
SD Format Support
525i29.97 NTSC, 625i25 PAL
HD Format Support
720p50, 59.94, 60
1080p23.98, 24, 25, 29.97, 30, 50, 59.94, 60
1080PsF23.98, 24, 25, 29.97, 30
1080i50, 59.94, 60
2K Format Support
2K DCI 23.98p, 2K DCI 24p, 2K DCI 25p
2K DCI 23.98PsF, 2K DCI 24PsF, 2K DCI 25PsF
Ultra HD Format Support
2160p23.98, 24, 25, 29.97, 30
SDI Compliance
SMPTE 259M, SMPTE 292M, SMPTE 296M, SMPTE 372M, SMPTE 424M Level B and SMPTE 425M.
Audio Sampling
Television sample rate of 48KHz
Video Sampling
4:2:2 and 4:4:4
Color Precision
8-bit
Color Space
YUV and RGB
Computer Interface
USB 2.0 for software updates and Ethernet for configuration
Colorspace Conversion
Hardware based real time.
Scopes
Luminance Waveform, Vectorscope, RGB Parade, YUV Parade, Histogram, Audio phase and level.