Description
Now you can convert video to IP and route it over your existing ethernet network, or you can convert IP video back to SDI. Teranex Mini IP Video 12G uses standard Blackmagic Videohub software and hardware control panels to configure and switch IP video over ethernet as easily as SDI signals! You get 12G-SDI and the low latency broadcast quality TICO codec so you can route HD over the built in gigabit ethernet connection or Ultra HD over 10G ethernet with an optional 10G SFP!
Connections
SDI Video Inputs
1 x 10-bit HD-SDI, 6G-SDI and 12G-SDI
SDI Video Outputs
2 x 10-bit HD-SDI, 6G-SDI and 12G‑SDI
Ethernet
Gigabit ethernet supports 3G-SDI up to 1080p60 using TICO encoding/decoding. Optional 10G optical data ethernet supporting Ultra HD up to 2160p60 using TICO encoding/decoding.
Multi Rate Support
Auto detection of HD-SDI, 6G-SDI or 12G‑SDI.
Updates
USB 2.0 high speed (480Mb/s) interface or via Ethernet.
Configuration
Ethernet or USB 2.0 for firmware updates and IP address setting.
Reclocking
On all SDI outputs, auto switching between high definition, 6G-SDI or 12G-SDI video.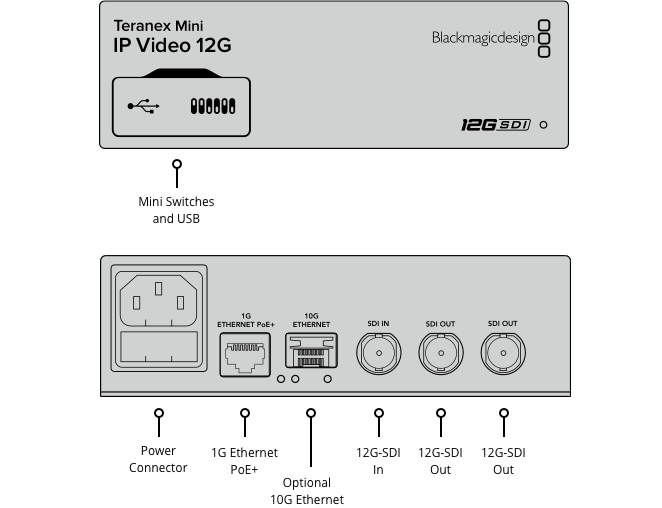 Standards
HD Video Standards
720p50, 720p59.94, 720p60,
1080p23.98, 1080p24, 1080p25, 1080p29.97, 1080p30, 1080p50, 1080p59.94, 1080p60, 1080PsF23.98, 1080PsF24, 1080i50, 1080i59.94, 1080i60
Automatic detection of Level A or Level B SDI on 1080p50, 1080p59.94 and 1080p60
2K Video Standards
2K DCI 23.98p, 2K DCI 24p, 2K DCI 25p, 2K DCI 23.98PsF, 2K DCI 24PsF, 2K DCI 25PsF
Ultra HD Video Standards
2160p23.98, 2160p24, 2160p25, 2160p29.97, 2160p30, 2160p50, 2160p59.94, 2160p60
4K Video Standards
4K DCI 25p4K DCI 23.98p, 4K DCI 24p, 4K DCI 25p
SDI Compliance
SMPTE 259M, SMPTE 292M, SMPTE 296M, SMPTE 310M, SMPTE 425M, ITU-R BT.656 and ITU-R BT.601.
SDI Video Rates
SDI video input is switchable between high definition, ultra high definition and 4K. SDI switches between 1.5 Gb/s HD-SDI, 3G-SDI, 6G-SDI and 12G‑SDI.
SDI Video Sampling
4:2:2 plus 4:4:4 up to 4K DCI 30p
SDI Audio Sampling
Television standard sample rate of 48 kHz and 24‑bit.
SDI Color Precision
10-bit 4:2:2 and 4:4:4
SDI Color Space
YUV or RGB for inputs, YUV for SDI outputs.
SDI Auto Switching
Automatically selects between HD-SDI, 6G-SDI and 12G‑SDI.
SDI Metadata Support
Video payload identification ancillary data as per SMPTE 352M.
Display
Optional Teranex Mini Smart Panel with 2.2 inch LCD for menu settings.