Blackmagic Design's SmartView Duo comprises a pair of side-by-side 8″ LCD monitors – both with an auto-selecting 3G/HD/SD-SDI input – that are housed in a 3 RU-high, rackmountable form factor. Ideal for live broadcast and mobile video production, the slim SmartView Duo features integrated tally (input via a standard 9-pin D connector) that clearly shows video status by displaying a red, green, or blue ring that borders the screen in question.
The 800 x 480-resolution displays' auto-switching SDI inputs accept an extremely wide range of digital signals, from standard-def 525i and 625i to full progressive high-definition 1080p60 and several flavors of 2K-resolution video. There's a loop-out BNC for both inputs, with re-clocking of the signal. For screen configuration and settings, plus firmware updates, the SmartView Duo has both USB 2.0 and Ethernet inputs.
For the SmartView Duo, a sleek design pays practical dividends. The thinness of the dual-display panel (less than 1″) means it's easier to install, transport, and ship. The lack of mechanical controls on the panel itself takes inadvertent adjustments out of the equation. The auto-image-flip feature means that the displays can be rotated upside down so you can achieve the best viewing angle.
Connections
SDI Video Input
Automatically switches between SD, HD and 6G-SDI. Reclocked loop through output.
SDI Video Output
1 x 10 bit loop through SD, HD and
6G-SDI switchable.
SDI Audio Input
16 channels embedded in SD, HD and UHD.
SDI Audio Output
16 channels embedded in SD, HD and UHD.
Multi Rate Support
Standard definition SDI, high definition SDI and 6G-SDI.
Tally
9-pin D connector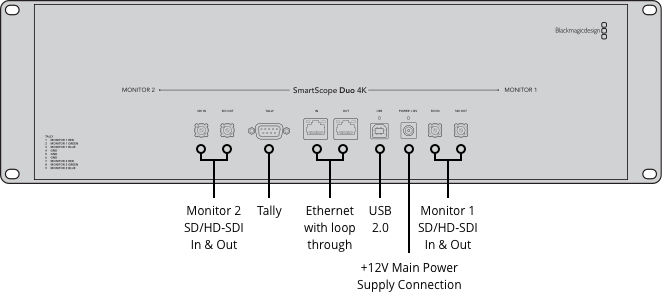 Standards
SD Format Support
525i29.97 NTSC, 625i25 PAL
HD Format Support
720p50, 59.94, 60
1080p23.98, 24, 25, 29.97, 30, 50, 59.94, 60
1080PsF23.98, 24, 25, 29.97, 30
1080i50, 59.94, 60
2K Format Support
2K DCI 23.98p, 2K DCI 24p, 2K DCI 25p
2K DCI 23.98PsF, 2K DCI 24PsF, 2K DCI 25PsF
Ultra HD Format Support
2160p23.98, 24, 25, 29.97, 30
SDI Compliance
SMPTE 259M, SMPTE 292M, SMPTE 296M, SMPTE 372M, SMPTE 424M Level B and SMPTE 425M.
Audio Sampling
Television sample rate of 48KHz
Video Sampling
4:2:2 and 4:4:4
Color Precision
8-bit
Color Space
YUV and RGB
Computer Interface
USB 2.0 for software updates and Ethernet for configuration
Colorspace Conversion
Hardware based real time.
Scopes
Luminance Waveform, Vectorscope, RGB Parade, YUV Parade, Histogram, Audio phase and level.