The Blackmagic Design SmartView 4K 2 is a professional 15.6″ TFT LCD monitor with a native resolution of 3840 x 2160 and two multi-rate 12G-SDI inputs. The inputs automatically switch between SD, HD, and 4K formats, including up to DCI 4K (4096 x 2160) at 60 fps. An SMPTE-compatible optical fiber socket enables you to add a separate module for SDI fiber input.
The SmartView 4K 2's machined metal frame provides built-in control buttons for access to advanced broadcast features including 3D LUTs, H/V delay, blue channel only, and customizable frame markers. The chassis is rack-mountable (6 RU) and also has VESA mounting holes for installation on articulating arms.
When monitoring SD, 720p, or 1080p SDI sources, the built-in Teranex processor uses Blackmagic's PixelMotion algorithms to automatically deinterlace and scale video up to UHD 4K. This gives users optimum image quality, even when working with lower-resolution images. In addition to the front panel buttons, the monitor can be controlled remotely via the rear Ethernet connection using the downloadable Mac or Windows software, ideal for hard-to-reach setups. With both AC power as well as 12 VDC power inputs, the SmartView 4K is well suited for use in the studio or on the set.
Connections
SDI Video Input
2 SDI inputs automatically switch between SD, HD, 3G, 6G and 12G-SDI. Reclocked video output.
Please click here for a summary of recommended cables to use with Blackmagic 12G‑SDI products.
Optical Video Input
SFP Optical Fiber connector cage.
SDI Video Output
Automatically switches to input selection.
Multi Rate Support
Auto detection of 4K, 2K, HD or standard definition inputs.
Updates and Configuration
USB
Ethernet
Gigabit ethernet with loop through.
Tally
9-pin D connector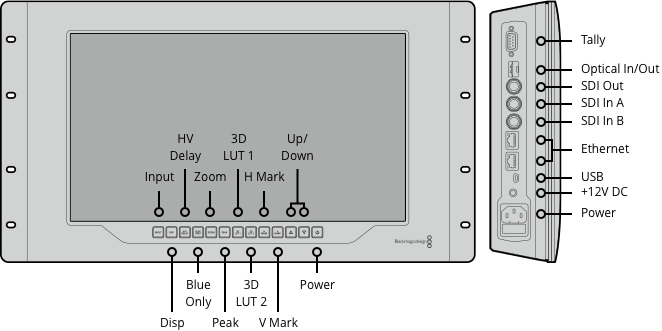 Standards
SD Format Support
525i59.94 NTSC, 625i25 PAL
HD Format Support
720p50, 720p59.94, 720p60
1080p23.98, 1080p24, 1080p25, 1080p29.97, 1080p30, 1080p47.95, 1080p48, 1080p50, 1080p59.94, 1080p60
1080PsF23.98, 1080PsF24, 1080PsF25, 1080PsF29.97, 1080PsF30
1080i50, 1080i59.94, 1080i60
2K Format Support
2Kp23.98 DCI, 2Kp24 DCI, 2Kp25 DCI, 2Kp29.97 DCI, 2Kp30 DCI, 2Kp47.95 DCI, 2Kp48 DCI, 2Kp50 DCI, 2Kp59.94 DCI, 2Kp60 DCI
2KPsF23.98, 2KPsF24, 2KPsF25, 2KPsF29.97, 2KPsF30
Ultra HD Format Support
2160p23.98, 2160p24, 2160p25, 2160p29.97, 2160p30, 2160p47.95, 2160p48, 2160p50, 2160p59.94, 2160p60
4K Format Support
4Kp23.98 DCI, 4Kp24 DCI, 4Kp25 DCI, 4Kp29.97 DCI, 4Kp30 DCI, 4Kp47.95 DCI, 4Kp48 DCI, 4Kp50 DCI, 4Kp59.94 DCI, 4Kp60 DCI
SDI Compliance
SMPTE 259M, SMPTE 292M, SMPTE 296M, SMPTE 372M, SMPTE 424M Level A and B, SMPTE 425M, SMPTE 2082.
SDI Color Space
REC 601, REC 709
SDI Auto Switching
Automatically selects between SD, HD, 3G, 6G and 12G-SDI.
Video Sampling
4:2:2 and 4:4:4
Display
Display Element
15.6″ TFT Active Matrix LCD
Display Resolution
3840 x 2160 pixels
Response
25 ms
Contrast Ratio
1000:1
Color Depth
16.7 million colors