The Blackmagic Design MultiView 16 features sixteen 10-bit 6G-SDI inputs that let you monitor SD, HD, or 4K sources in any combination on Ultra HD monitors or TVs. This lets you take advantage of the high resolution displays to view each source with increased clarity. The MultiView 16 allows for 4, 9, or 19 views to be selected, with each input fully re-synchronized. Two HD-SDI, two 6G-SDI, and one HDMI multi-view outputs are provided, as well as a loop output for each 6G-SDI input for passing the signals to additional devices.
Housed in a 1RU machined aluminum frame, the MultiView 16 is ready for use in the studio, broadcast truck, or even on location. It can be controlled using the illuminated buttons, spin knob, and 1.5″ LCD screen on the front panel, or with the included control software via the Ethernet port. A SOLO button lets instantly full screen a single source. For easy integration into any facility, a built-in multi-voltage power supply supports 90 to 240VAC.
Connections
SDI Video Inputs
16 x 10-bit SD-SDI, HD-SDI and 6G‑SDI.
SDI Video Outputs
16 x 10-bit SD-SDI, HD-SDI and 6G‑SDI.
SDI Rates
270Mb, 1.5G, 3G, 6G.
SDI Video Multi View Outputs
2 x 10-bit HD-SDI, 2 x 10 bit 6G‑SDI.
HDMI Video Multi View Outputs
1 x HDMI type A connector. Output supports EDID of the monitor.
SDI Reclocking
On all SDI outputs, auto switching between standard definition, high definition or 6G‑SDI video.
Reference Input
Black Burst and Tri-Sync for SD, HD and 4K.
Multi Rate Support
Auto detection of SD, HD or 6G‑SDI. Simultaneous viewing of 4K, HD and SD video.
Updates
USB 2.0 high speed (480Mb/s) interface or via Ethernet.
Configuration
Via front panel LCD or use either RJ45 Ethernet or USB 2.0 for firmware updates and IP address setting.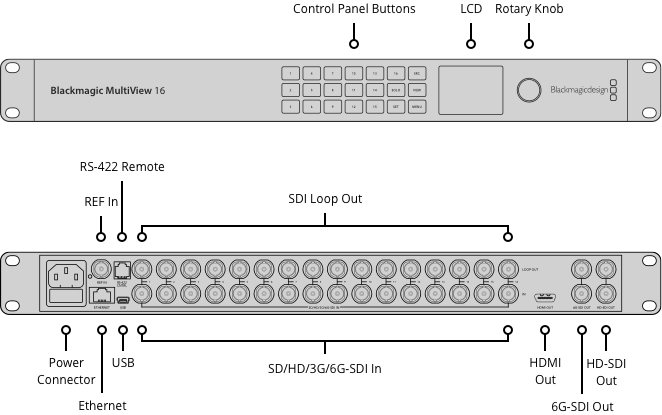 Standards
SD Video Standards
525i59.94 NTSC, 625i50 PAL
HD Video Standards
720p50, 720p59.94, 720p60, 1080p23.98, 1080p24, 1080p25, 1080p29.97, 1080p30, 1080p50, 1080p59.94, 1080p60, 1080PsF23.98, 1080PsF24, 1080PsF25, 1080PsF29.97, 1080PsF30, 1080i50, 1080i59.94, 1080i60
2K Video Standards
2K DCI 23.98p, 2K DCI 24p, 2K DCI 25p, 2K DCI 23.98PsF, 2K DCI 24PsF, 2K DCI 25PsF
Ultra HD Video Standards
2160p23.98, 2160p24, 2160p25, 2160p29.97, 2160p30
4K Video Standards
4K DCI 24p
SDI Compliance
SMPTE 259M, SMPTE 292M, SMPTE 296M, SMPTE 425M-B, ITU‑R BT.656 and ITU‑R BT.601.
Audio Meters
Each view, VU standard.
Source Routing
Yes
SDI Video Sampling
4:2:2 and 4:4:4.
SDI Audio Sampling
Television standard sample rate of 48kHz and 24-bit.
SDI Color Precision
10-bit 4:2:2 and 4:4:4.
SDI Color Space
YUV or RGB for inputs, YUV for outputs.
SDI Auto Switching
Automatically selects between SD-SDI, HD-SDI, and 6G‑SDI on each input so that each input can be running a different television standard.
SDI Metadata Support
Video payload identification ancillary data as per SMPTE 352M.
Control
Built in Control Panel
16 buttons for local control of source routing with 5 buttons and scroll wheel for menu control. 2.2 inch color display.
External Control Panel
Includes Blackmagic Videohub software control panel for Mac OS and Windows for routing sources to views. Supports Blackmagic Smart Control and Blackmagic Master Control hardware panels. Includes Blackmagic Videohub SDK and Ethernet Videohub Control Protocol.
RS-422 Control
RJ9 for external control.
Display
Built in 1.5 inch LCD for menu settings.