Publish your live events for immediate distribution with the Blackmagic Design Duplicator 4K. With 25 SD card slots, SD, HD, or even UHD 4K video can be recorded to 25 SD cards in real time from the 12G-SDI or Optical inputs. In order to maintain quality while maintaining smaller file sizes, efficient H.265 encoding is employed. SD cards are small, inexpensive, and reusable, making them the logical media of choice for a compact, high-yield device such as this.
General Features
Compact Scalable Design
The Blackmagic Duplicator 4K features a realtime H.265 encoder and 25 SD card recorders that are miniaturized into a single rack unit design. The machined metal design is durable, lightweight, and small enough to take on the road. That means you can duplicate content right where you're recording and sell it. The front panel has an LCD display for status, and professional broadcast connections such as 12G-SDI with loop through and RS-422 deck control are on the rear so you can connect multiple units together inside a standard 19″ rack and record more cards at the same time.
Solo Work
For the many events that require only a single camera and operator, the Duplicator 4K saves time and effort. If you're working alone, you can still produce multiple copies and sell content right off the bat. Simply plug the SDI output from your camera into the duplicator, start shooting and the Blackmagic Duplicator 4K will automatically start encoding and making copies. The Blackmagic Duplicator 4K recognizes the SDI start/stop commands from the camera so it automatically starts and stops recording along with the camera.
Single File Recording
The Blackmagic Duplicator 4K includes an Append Record button that lets you seamlessly combine recordings from different parts of an event into a single file. For example, if you are recording events that have natural breaks, like weddings with a ceremony and reception in different locations, the Blackmagic Duplicator 4K can automatically append the recordings all into a single file. This makes it easier for viewers to watch because they only have to play back a single movie.
Simultaneous Card Formatting
With the Blackmagic Duplicator 4K you can easily load and format all 25 cards from the front panel at the same time, rather than formatting them one at a time on your computer. At the end of the event you can take cards out as you sell them, and because the cards are re-usable, you can simply reformat and record over the unsold cards at your next event..
Connections
SDI Video Inputs
1
SDI Video Outputs
1 x loop out.
SDI Rates
270Mb, 1.5G, 3G, 6G, 12G.
SDI Audio Inputs
16 channels embedded.
SDI Audio Outputs
16 channels embedded.
Optical SDI
Supports optional SMPTE optical module.
Optical Outputs
1 x 10‑bit SD/HD/UHD auto switching.
SD Card Interface
25 x SD Card Slots
Device Control
Sony™ compatible RS422 deck control port. 1 x in plus 1 x out.
Computer Interface
1 x USB 2.0 mini port for software updates and Blackmagic Duplicator software control.
Ethernet
Ethernet supports 10/100/1000 BaseT.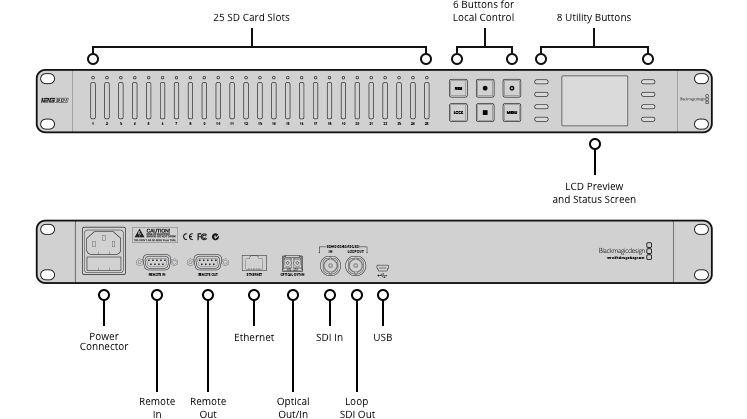 Standards
SD Video Standards
525i59.94 NTSC 4:3 or 16:9, 625i50 PAL 4:3 or 16:9
HD Video Standards
720p50, 720p59.94, 720p60, 1080p23.98, 1080p24, 1080p25, 1080p29.97, 1080p30, 1080p50, 1080p59.94, 1080p60, 1080PsF23.98, 1080PsF24, 1080PsF25, 1080PsF29.97, 1080PsF30, 1080i50, 1080i59.94, 1080i60
Ultra HD Video Standards
2160p23.98, 2160p24, 2160p25, 2160p29.97, 2160p30, 2160p50, 2160p59.94, 2160p60.
SDI Compliance
SMPTE 259M, 292M, 296M, 425M Level A and B
SDI Metadata Support
HD RP188 and closed captioning.
Audio Sampling
Television standard sample rate of 48kHz and 24‑bit uncompressed.
Video Sampling
4:2:2
Product Specifics
Duplicate Recording Mode
Duplicate recording mode simultaneously records to all media in Blackmagic Duplicator 4K and to additional units connected via RS422.
Single Disk Recording Mode
Single Disk recording mode records sequentially to all media in the primary Blackmagic Duplicator 4K, then sequentially to additional units connected in series via RS422. Recording will automatically stop when media in all units is full.
Disk Overwrite Recording Mode
Disk Overwrite recording mode records sequentially to a single Blackmagic Duplicator 4K, overwriting media in a continuous loop until the recording is stopped.
Record Codec
8‑bit H.264 or 10‑bit H.265 at 4:2:0 with ACC audio.
Media
Media
25 x UHS‑I for SD, HD and Ultra HD recording.
Media Type
Class 10 minimum. SDXC UHS‑I and SDHC UHS‑I SD cards. Also supports UHS‑II SD cards.
Media Format
Can format cards to ExFAT file system.
Control
Built in Control Panel
6 buttons for transport and menu control. Includes record, append record, stop, menu, remote and control panel lock buttons. 2.2 inch color display.
External Control
RS‑422 deck control, SDI start/stop, timecode run. Includes Blackmagic HyperDeck SDK and Ethernet HyperDeck Control Protocol.