Description
The Blackmagic Cloud Store is a very fast high capacity network disk that's designed to handle large media files used on Hollywood feature films. The design uses advanced flash memory so it easily handles lots of simultaneous users. Plus it's extremely easy to set up!
Connections
10G Ethernet Ports
4 x 100/1000/10G BASE-T
1G Ethernet Ports
2 x 100/1000 BASE-T
Ingest USB-C Port
1 x USB 3.0 (up to 5Gb/s). Automatically transfers files from USB drive to Cloud Store.
Backup USB-C Port
1 x USB 3.0 (up to 5Gb/s). Automatically backs up files from Cloud Store to USB drive.
HDMI Monitor Outputs
1
Computer Interface
Ethernet for shared file access, configuration and software updates. USB-C for configuration and software updates.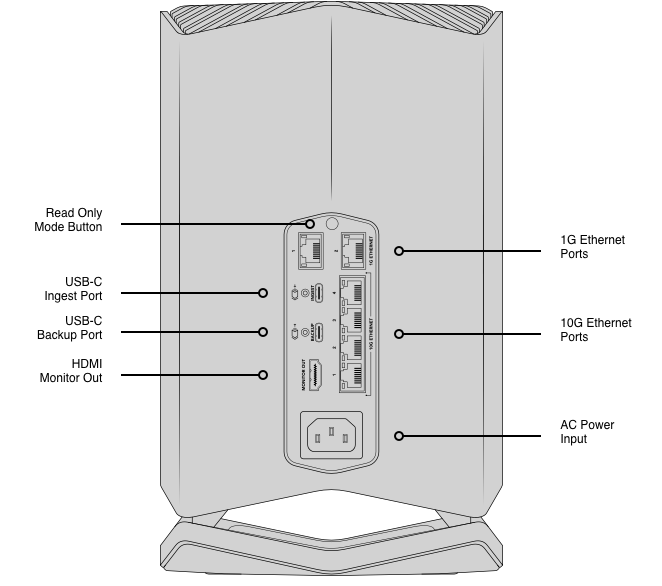 File Sharing Protocol
Protocol
SMB
Computer Connections
50 max.
Cloud Synchronization
Compatible Services
Dropbox
Storage
Storage Type
M.2 NVMe SSD
Total Capacity
20TB, 80TB or 320TB
Redundancy
RAID 5 distributed parity
External Storage
USB Disks
External Storage Format
ExFAT (Windows/Mac) or HFS+ (Mac) file systems.
Displays
HDMI Monitor Out Standards
1080p50, 1080p59.94, 1080p60.
Monitor Out Displays
Device Name, storage capacity and use, Cloud Sync status, User Activity, Hardware Status, storage map, network data rate graphs.
Status Indicator
Underside white glow indicating normal operation or red glow indicating disk or power supply fault.
Device Control
External Control
USB-C or Ethernet for configuration and software updates.
Software
Software Included
Blackmagic Cloud Setup Utility
Blackmagic Proxy Generator Lite
Internal software upgrade via Blackmagic Cloud Setup using USB-C port.